Tirupathi Bhimas Milpitas
(By Naveen)
Address:
Tirupathi Bhimas
1208 S Abel St
Milpitas, CA 95035



Tirupathi Bhimas Milpitas: Sparse Blessings
It was a Wednesday night and we were feverishly scouting for a place to gorge on some South Indian food.
After some deliberation, we zeroed in on Tirupathi Bhimas and decided to give the restaurant an opportunity to feature favorably on the world famous BayMasala.com. ;)
Tirupathi Bhimas is a popular vegetarian restaurant in the Bay Area piggybacking on the fame and name of the Hindu temple town of Tirupathi (in the South Indian state of Andhra Pradesh).
Bay Area is so chock-a-block with Indian restaurants that your expectations tend to run high and tolerance for any shortcomings is pretty low.
We walked into Tirupathi Bhimas nursing hopes of delicious food and a fine dining experience.
But does hope always translate into reality?
Facilities & Ambiance
The modest appearance and unabashedly simple setup of Bhimas is a throwback of sorts but not one that should deter visitors.
The setup is basic but decent – adequate parking, neat furniture, clean plastic water glasses etc.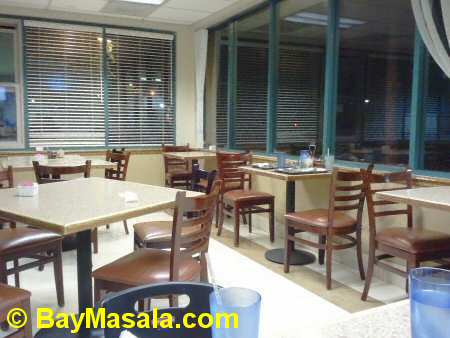 Unlike their greedy competitor Saravanaa Bhavan, Bhimas has generous spacing between tables and one doesn't have to worry about rubbing one's derriere against the plump aunty sitting behind.
It wasn't too late in the night but the place was half empty. Was that a warning?
The Food
Famished as were, we ordered a variety of items.
With mucho anticipation, we waited eagerly for the sexy li'l things to show up one by one to satiate our simmering appetite for the evening.
Round 1: Atrocious Tiffin
Disaster arrived in the form of Sambar Vada.
The terrible preparation was neither flattering in appearance nor any good in taste.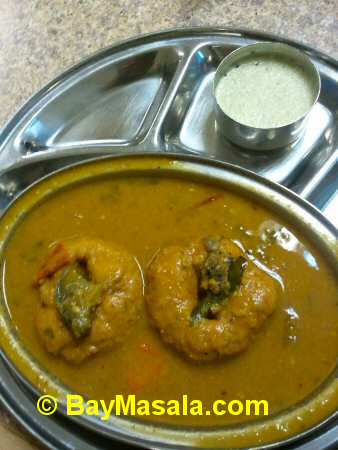 The Vada had a re-used oil feel and the Sambar most likely came from the bottom of the container. And I say that due to its sludgy feel.
The lack of warmth, absence of sprinkled onions and missing aroma of Ghee made things worse and this dish gave a real cold start to our dinner.
On a night where many items vied be the worst, Medu Vada gave a close run to the Sambar Vada.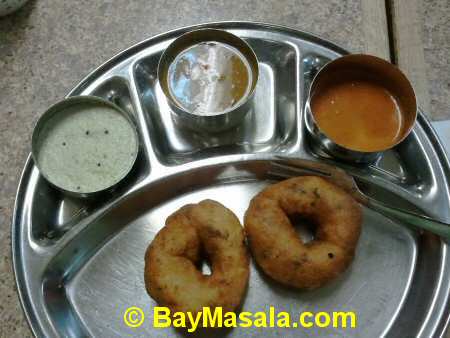 The oily feel and stale taste left us with nothing but a bad feeling in our mouth.
The next two things weren't food at all!
If Heart Attack and Diabetes had some shape then they would resemble Andhra Punugulu and Idly Manchurian respectively.
The Punugulu was a collection of oil balls meant to accelerate your in-person meeting with Tirupathi Balaji a.k.a Lord of the Seven Hills.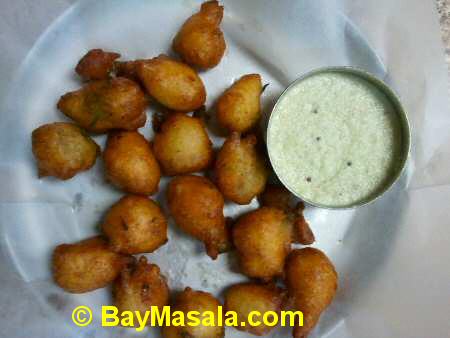 Yours truly is no expert on Punugulu but I am intimately familiar with deep friend dishes such as Bajji, Bonda, Pakoda etc. and never have I come across something with so much oil.
Idly Manchurian was fried idly soaked in a greasy tomato sauce and it was equally capable of delivering a fatal overdose of oil.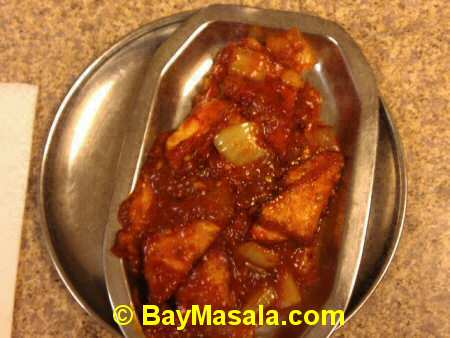 It is beyond the ken of sane minds to inquire why these clowns even bother with Indian-Chinese stuff when they are incapable of making basic tiffin?!?
The last item in our Tiffin round was the Mini Tiffin, a sampler platter of Idly, Vada, Pongal, Mini Masala Dosa, Rava Kesari and Coffee.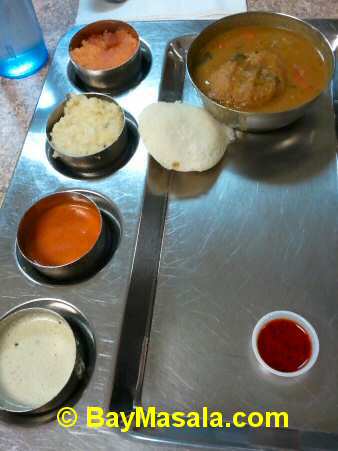 When the plate was set on our table it seemed like a joke because it was nearly empty!
Thankfully the mini-masala Dosa arrived shortly to occupy the empty space.
While the mini-tiffin wasn't a disaster, it was not a thing of joy either.
The decent Idly, Pongal and Masala Dosa compensated for the lousy Vada and ghee-less Rava Kesari.
It would have definitely made the Pongal better were it to have some Ghee on it.
It seems oil was flowing freely but someone had the tab on the Ghee.
The small portions however were an irritant. Who wants to see an empty shining plate ? Put some food on it, damn it!!
Round 2: Redemption
The horrendous opening round had considerably lowered our expectation.
We fervently hoped for Balaji to intervene and bless us with some real food.
Things started looking up with the arrival of Onion Rava Masala Dosa.
Despite a trace of bitterness probably due to the over fried onions and a perception of too much Rice flour, the Onion Rava Masala was quite ok.
It was well roasted, less oily and quite filling.
Coriander Dosa was a good follow-up.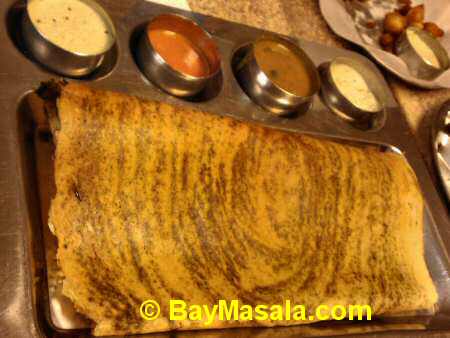 It was crisp, firm and uniquely colored, tempting us to gobble it.
The coriander chutney spread inside the Dosa was mildly tangy and spicy making this Dosa a delightful adventure.
Parotta Kuruma made its entrance and, boy, wasn't that savory?
Parottas were warm, soft and layered as one expects of the South Indian kind.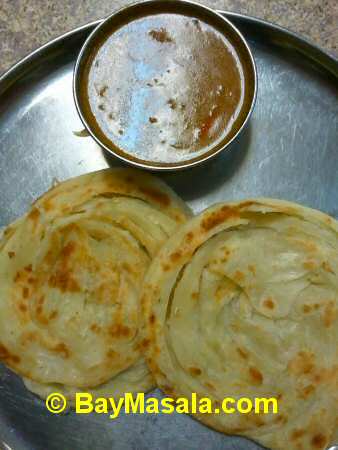 The aromatic Kuruma was an able companion to the Parottas.
Kuruma was evenly cooked, warm and set my taste buds on ballet.
If the Kuruma was a hit, then the next item, Adai Avial was a super hit!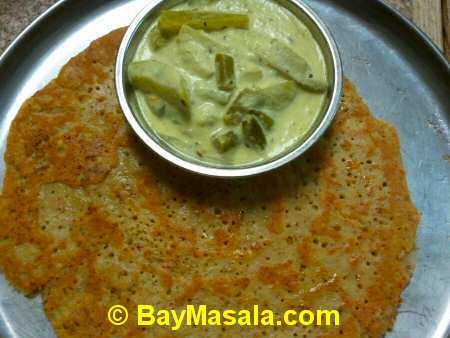 The creamy Avial was certainly among the best I have tasted in recent times.
Most restaurants put half cooked vegetables into yogurt and shove it down the customers throat but Tirupathi Bhimas put some passion into making this delightful dish.
The delicate balance of the sourness, salt and spice was perfectly maintained.
The unusually thin Adai was warm and tasty but it was the supremely good Avial that made the combo work.
How can we end a South Indian meal without Meals?
The sumptuous Non-Spicy Thali had the usual items that make up a Thali.
But what elevated the Thali from being just average to highly satisfying, was the Kuruma, More Kuzhambu and Avial.
The chefs at Bhimas definitely know a thing or two about using yogurt!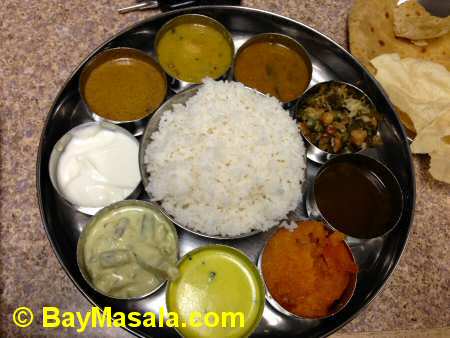 We also liked the spicy, tangy and warm Rasam.
Thali came with a nice warm South Indian Chapathi but the nitwits placed the Appalam right between the steaming white Rice and Chapathi (see below), making it soft and soggy.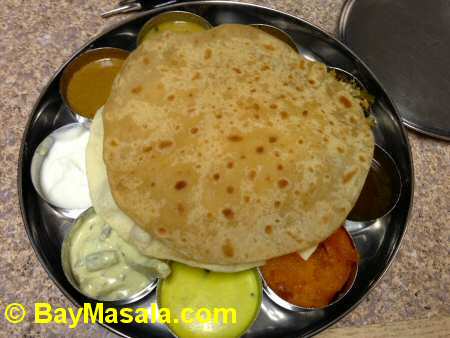 Round 3: Coffee, Buttermilk and Some Nauseating Liquids!
For every good drink served, a ridiculously bad drink was dumped on us.
The bubbly Filter Coffee was rich in aroma and invigorating.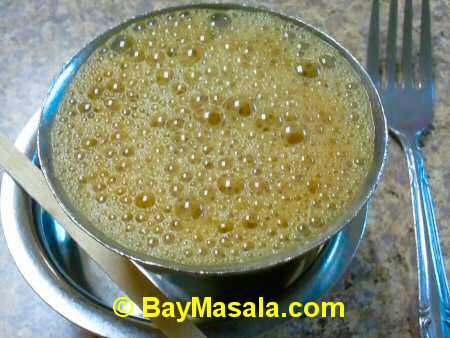 Buttermilk served as a fine complement to the meals and Dosas. The gentle hint of Hing added to its flavor.
However, our order of Badam Milk and Rose Milk turned out to be atrocious apologies of a drink.
The uninterestingly made duo were truly un-drinkable and utterly repugnant. :(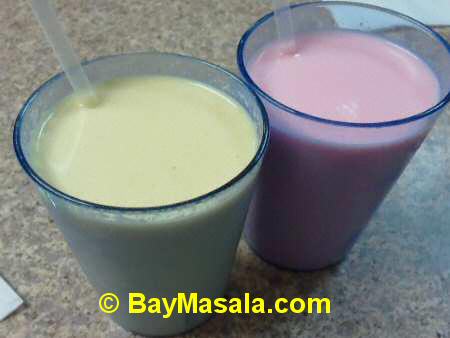 Neither drinks were chilled. Both were poorly mixed.
Badam Milk wasn't smooth. It had badly crushed pieces of Badam.
Rose Milk was very thin and made worse by an overdose of rose essence.
Ratings
However bad the Idlies and Dosas are, usually the Chutneys, Podis and Sambar save the day but that was not the case in Bhimas. All the side items were Stale! Stale!! Stale!!!
Coconut Chutney failed on multiple levels.
It was cold. It seemed like it was made out of frozen coconut / dried coconut instead of fresh ones.
It also felt old and devoid of the distinct aroma and taste. The tadka of fried Urad dal was also missing.
The Spicy-Tomato chutney and Podi were marginally better probably because of the spice.
However, the chutney wasn't fresh and missed a good tadka.
The Podi seemed several days old.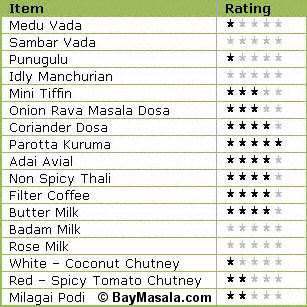 Service
Tirupathi Bhimas scored good marks on service.
Order taking and serving food were accomplished quickly.
Water was refilled in a timely manner. When we spilled some Sambar, the waiter promptly cleaned it up and replaced it with a fresh cup.
The waiter was courteous and patient as we scanned the menu several times and also asked us for desserts.
Billing was also handled promptly.
Many of our dishes, especially the Tiffin items, were served from what seemed like an extension of the kitchen (Partly open kitchen, maybe?).
These dishes were handed over by Mexican / Hispanic men to Indian waiters who brought them to our table.
This leads me to believe that the restaurant employs Hispanic cooks to prepare Indian food!
Could this be the reason for some of the foul tiffin they served us.
While we don't really care about the ethnicity of the cooks, we seriously care about the taste. Perhaps the Amigos were not trained well enough in the preparation and subtleties of Indian food.
Recommendation
Decent service does not quite compensate for the overall ineptitude in not getting basic South Indian food items right.
Although some of the items were really good, an average South Indian would question the wisdom of dining at a place where the Sambar and Chutney suck.
If I had to pick the top five Indian restaurants in Bay Area, Tirupathi Bhimas would not figure in that list despite some of their delicious offerings.
This is perhaps a reflection of how good some of the other Bay Area Indian restaurants are.
If you plan on visiting Tirupathi Bhimas, I'd recommend you plump for their Meals and Coffee. - © BayMasala.com