Bay Area Indian Jewelry Stores
Gold and Silver Jewelry
When it comes to buying Indian gold jewelry or biscuits, Bay Area offers a wide choice.
So if you are planning to buy bridal jewelry, engagement rings, pendants, bracelets, silver anklets, toe rings, special jewelry gift for your loved one or for a fesival, you are sure to find them in Sunnyvale, San Jose, Fremont, Berkeley or Cupertino.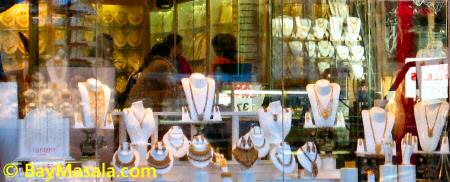 Besides the finished gold and silver jewelry, gemstones, bangles, the Bay Area Indian jewelry stores also offer costume jewelry, puja items and small statues of Ganesh, Rama and fashion accessories.
Here are a few Indian jewerly stores in Bay Area selling Indian jewelry and gems:
Kadam & Kadam
998 E. El Camino Real
Sunnyvale, CA 94087
Ph: 408-245-9770



Kumar Jewelers
5162 Mowry Ave
Fremont, CA 94538
Ph: 510-713-1040



Manisha Jewelers
1053 E. El Camino Real, # 5
Sunnyvale, CA 94087
Ph: 408-249-3898