Bay Area Indian Vegetarian Restaurants
When it comes to Indian vegetarian food, Sunnyvale, Fremont and Milpitas offer abundant choice.
Since many Indians in Bay Area consider the smell and sight of meat dishes off-putting and revolting, they visit only "pure" vegetarian restaurants.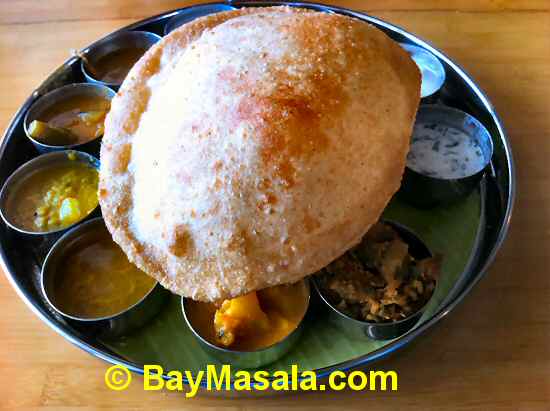 Vegetarian Thali
Whether you want to eat Idly, Vada, Pongal, Bisebele Bath, Mysore Masala Dosa,Pulihora, Uttappam, Samosa Chaat, Alu Papdi Chaat, Dhokla, Dal Batti Churma or Channa Batura you get them all and more at Indian vegetarian restaurants in Bay Area.
Some Indian restaurants in Bay Area offer even Jain food and entrees that are free of Onion/Garlic.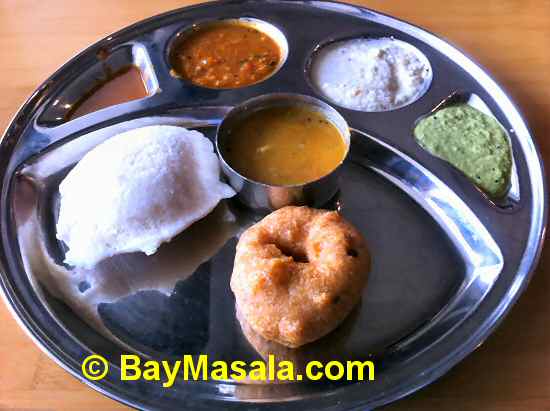 Idly, Medhu Vada with Sambar & Chutneys
The downside with most Indian vegetarian restaurants in Bay Area is absence of lunch or dinner buffet.
Indian vegetarian restaurants in Sunnyvale, Santa Clara primarily offer thali, tiffin, mini thali, lunch specials or
a-la-carte
menu only.
Mysore Masala Dosa with Sambar & Chutneys
South Indian, North Indian, Gujarati, Punjabi, Mumbai street food, Rajasthani and every variety of Indian vegetarian cuisine is represented in Bay Area.
Here's a short list of Indian restaurants offering Indian vegetarian food in Bay Area:

Milpitas, CA 95035




Sunnyvale, CA 94087



Sunnyvale, CA 94087



Sunnyvale, CA 94087



(at intersection of Arques and Commercial St)
Sunnyvale, CA 94085



Madurai Idli Kadai

744 S Wolfe Rd
Sunnyvale, CA 94086



Ananda Bhavan

5168 Mowry Ave
(at intersection of Mowry and Blackow)
Fremont, CA 94538


Related Posts
Biryani in Bay Area
Bay Area Indian Buffet